Discover why your garden is the farm of tomorrow and how we can feed the world
A collective change of consciousness means a collective change in the screen of space
The Most Precise and Complete Fertilizer in the Market
Physiological Plant Nutrition
Provide your plants with all their specific needs without being an expert!
Transform your plants in just a few days
Premium Foliar Fertilizer
Becoming Aware...
Fitleaf has recognized that the current food system is incompatible with our world. With world & hidden hunger, a growing population, and a decline in farms, we must become conscious and take action. We are slowly being disconnected from our food source, making us dependent instead of independent; however, we can collectively transform our world by growing our food at home and in our communities to welcome a new Earth, one composed of love and unity, where we look out for each other.

The choice is up to each one of us.
Why Fitleaf?
Top-of-the-line
We craft our nutrient formulas from premium raw material sources around the globe. Top-of-the-line nutrition helps your plants perform to their true potential while enjoying the benefit of high-quality material with excellent solubility.
Loyalty
Our purpose is to provide urban growers & gardeners with the best plant nutrition so that we can collectively change the food system to provide nutrient-rich food for the world as we learn to take care of each other.
Community & Service Driven
We are always open to collaborating with individuals and businesses who intend to transform our world from a place of unity. We are also happy to assist you in all your growing endeavors. Feel free to reach out if you have any questions or comments!
Top-of-the-line fertilizers for a New Earth
From 1920 to 2017, there has been a 69% decline in the number of farms and a 210% increase in population within the US.
– FITLEAF [SOURCE: USDA AG CENSUS]
Shop the Look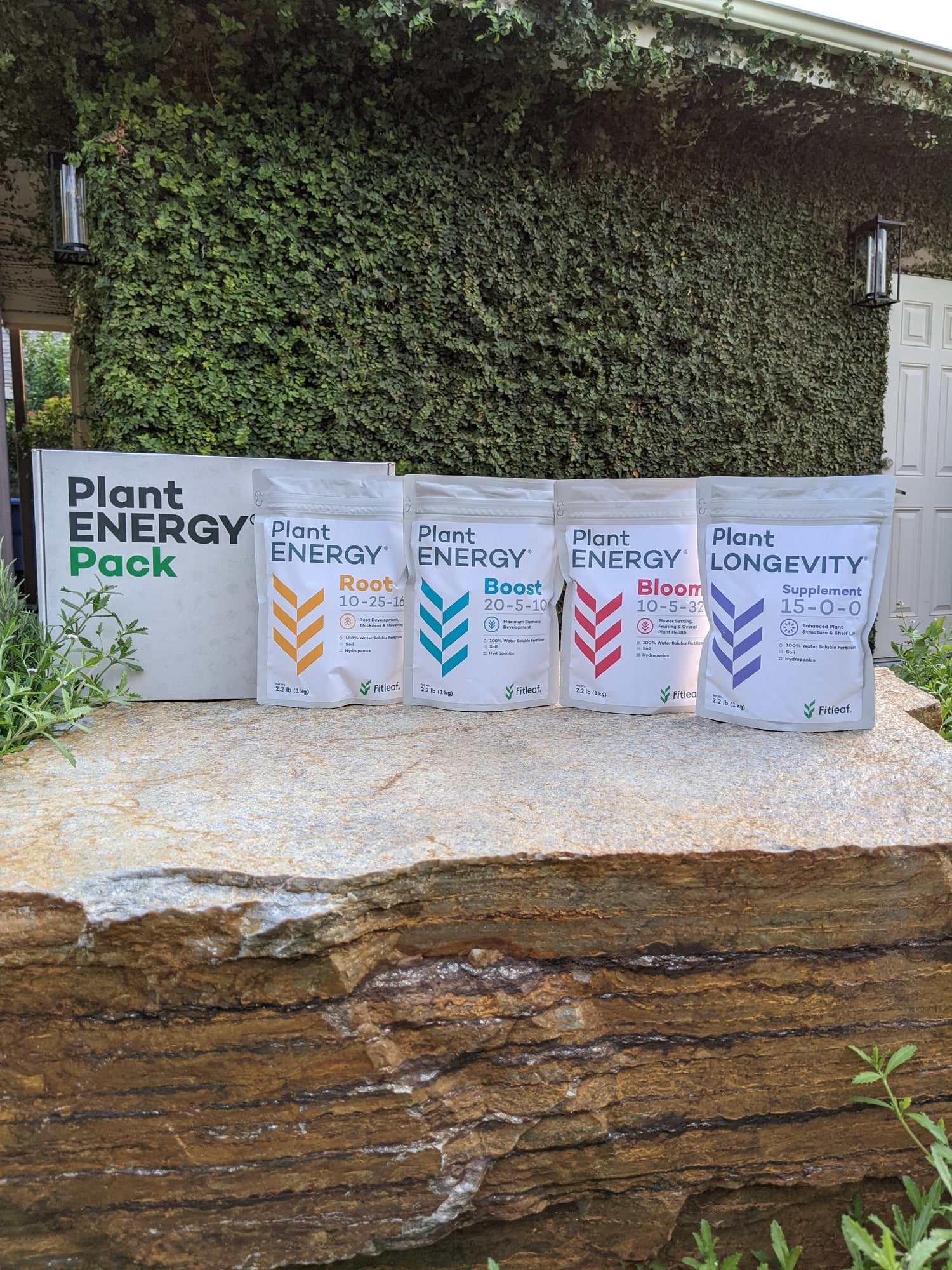 Quick view

Plant ENERGY® Pack

Regular price

$39.99 $67.99

Regular price

Sale price

$39.99 $67.99
Quick view

Plant ENERGY® Bloom

Regular price

$12.99 $199.99

Regular price

Sale price

$12.99 $199.99
Quick view

Plant ENERGY® Root

Regular price

$12.99 $199.99

Regular price

Sale price

$12.99 $199.99
Quick view

Plant ENERGY® Boost

Regular price

$12.99 $24.49

Regular price

Sale price

$12.99 $24.49
Quick view

Plant LONGEVITY® Supplement

Regular price

$11.99 $139.99

Regular price

Sale price

$11.99 $139.99
FitNute App - How it works?
1. Choose Your Preferred Crop

2. Choose Your Solution Method

3. Create Endless Formulas

4. Create Your Report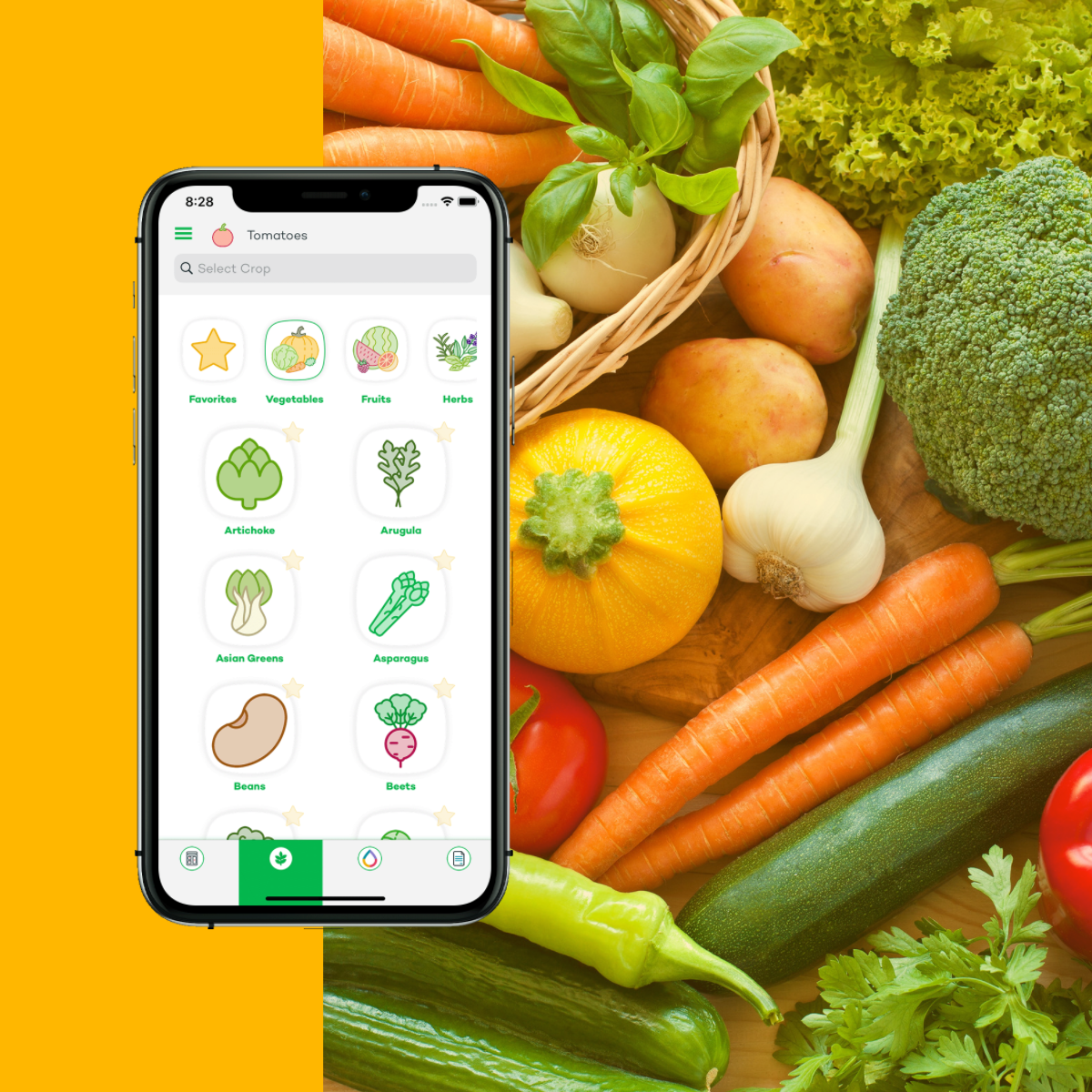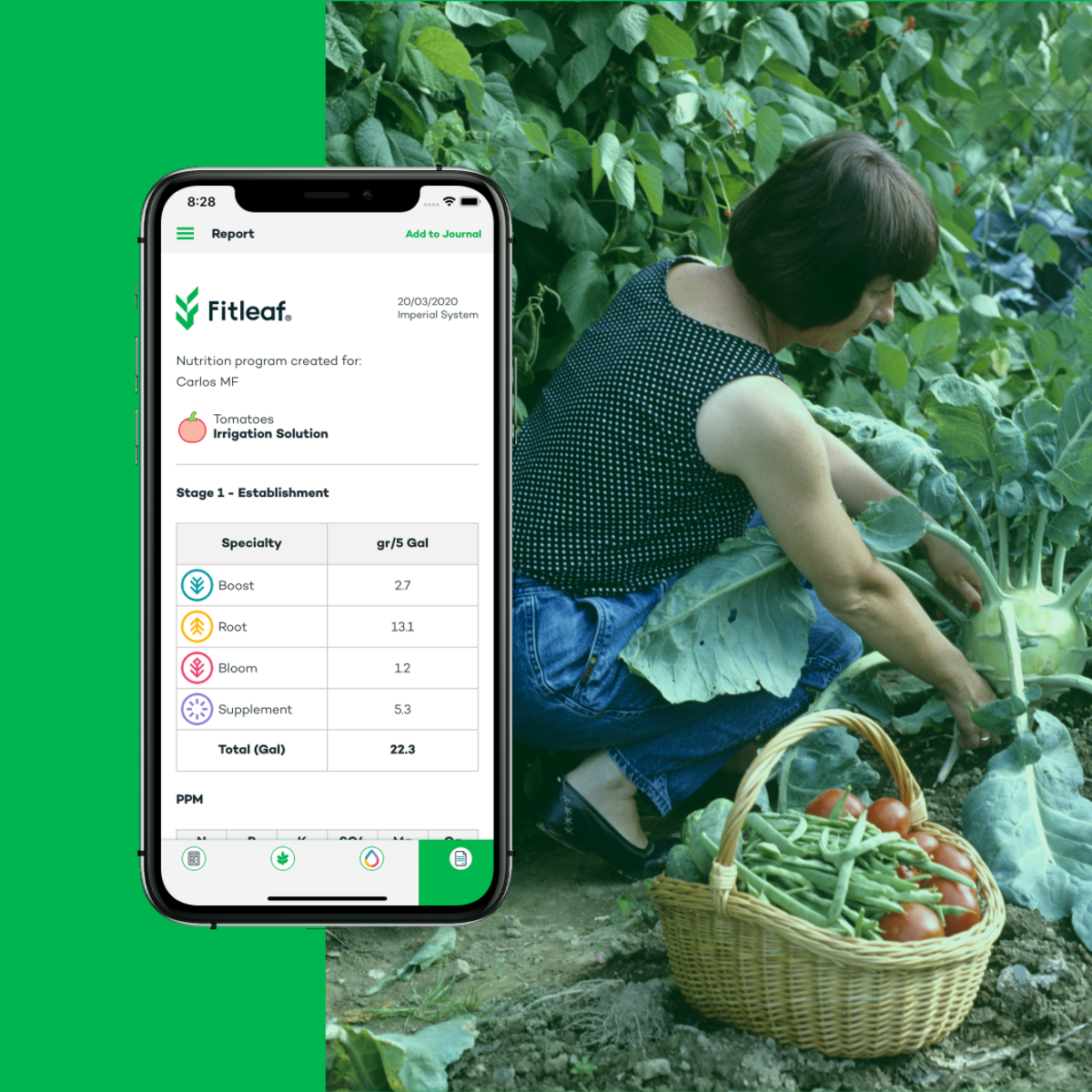 Before & After Leaf VITALITY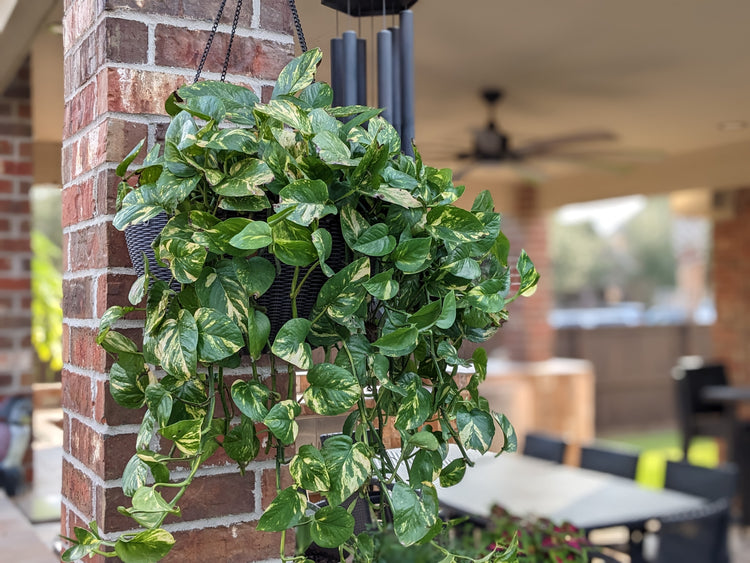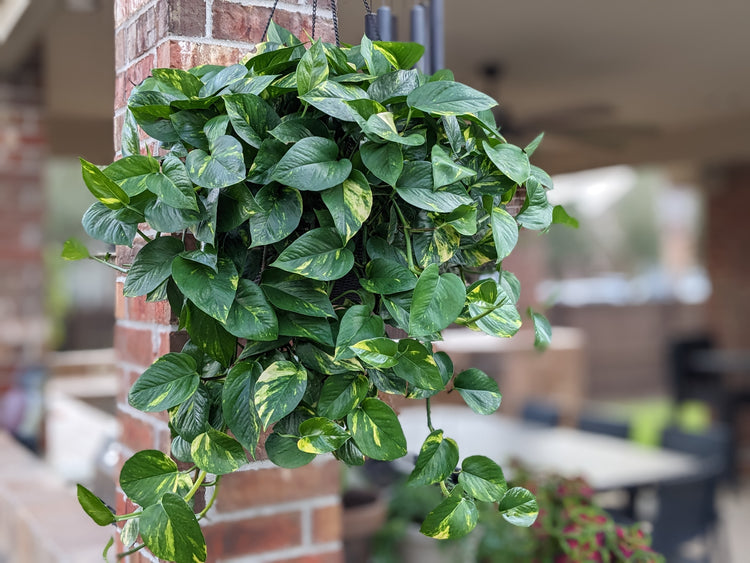 Leaf VITALITY® All Purpose
Regular price

Sale price

$13.49
Leaf VITALITY®
All Purpose (20-20-20)
Is a complete water-soluble foliar fertilizer formula with a special nutrient balance to be sprayed on any plant. Its formula is ideal for stimulating vigorous growth, plant well-being and maximizing critical growth stages. This nutritional balance also contains yeast hydrolyzed protein, an essential amino acid for the plant to naturally induce it to perform its physiological processes with greater efficiency and lower energy expenditure.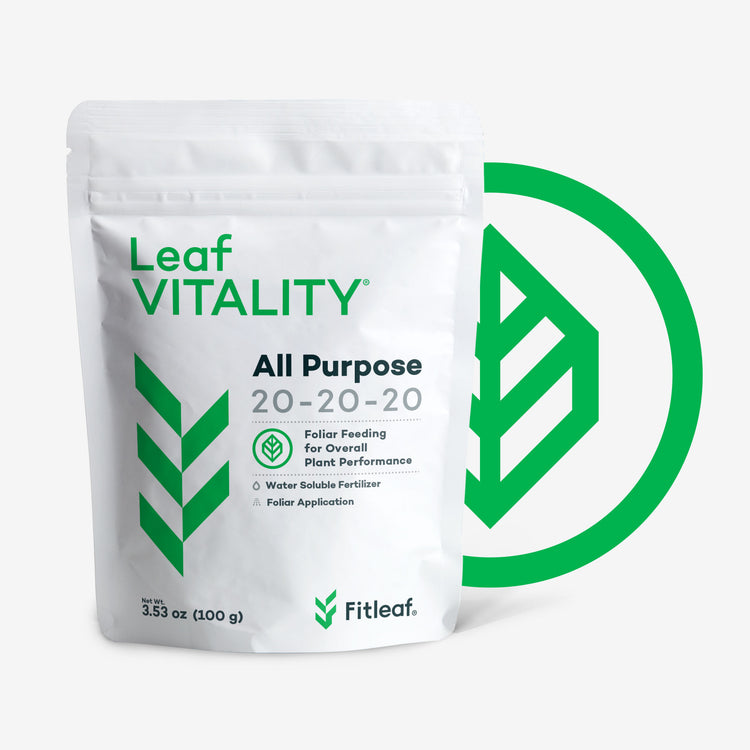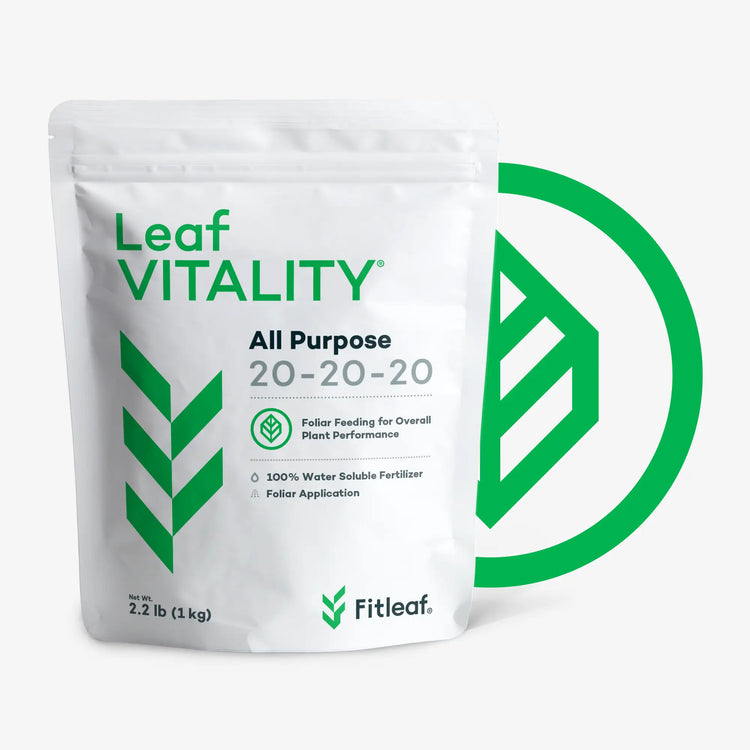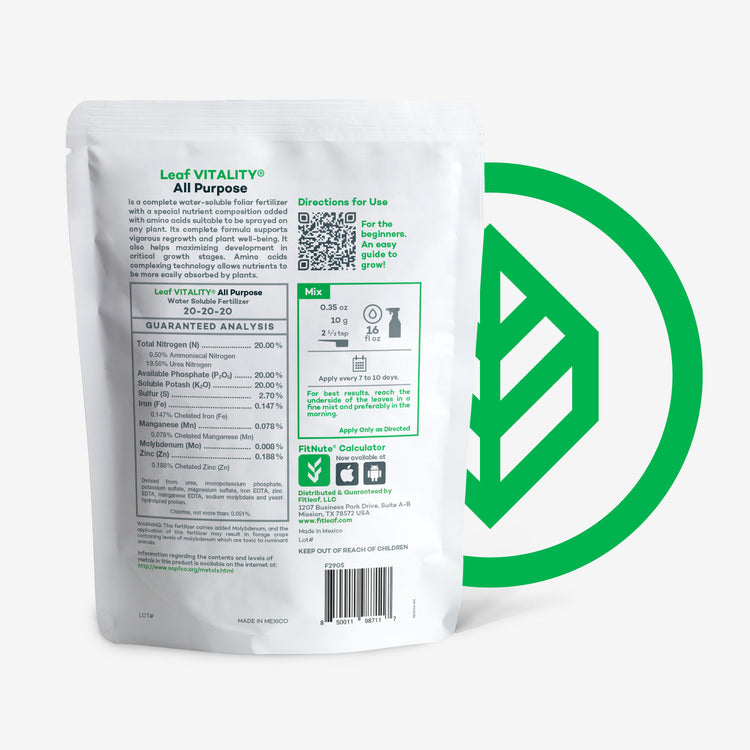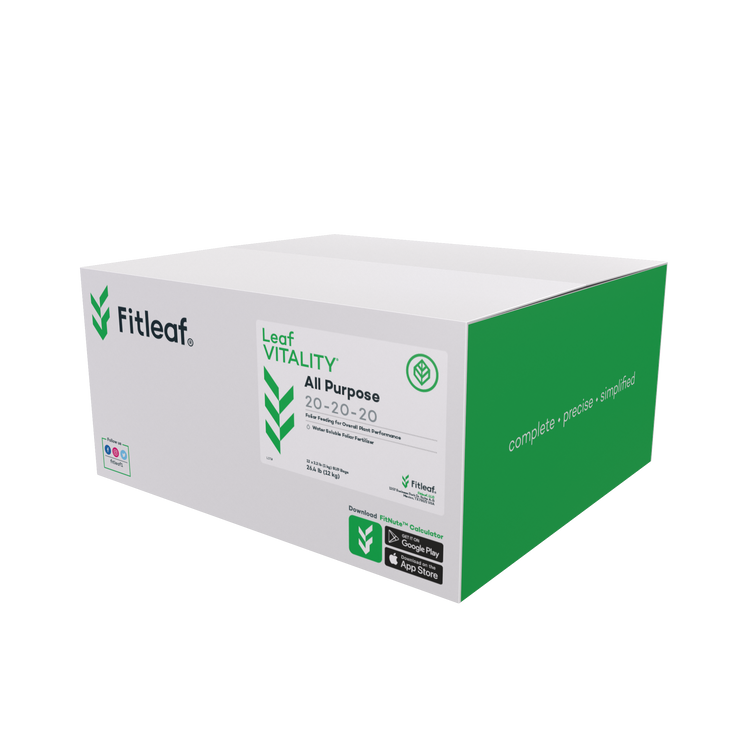 Testimonials

On the suggestion of a friend I started using Fitleaf nutrients on my raised garden beds this past spring.  Due to my limited garden experience I had  been using a generic all-purpose fertilizer with varying results.  I was really impressed by how easy it was to use the Fitleaf app to generate plant specific solutions and feeding schedules.  As a result, my garden really began to flourish and ended the season with my best harvest yet. I  recently moved and wasn't able to get my fall garden in, but I am looking forward to this upcoming spring!.

Brian K.
I got this two months ago as a gift from my boyfriend for my plants and a small garden I'm growing in my apartment. My seedlings grew really well with the root formula and the more established plants are looking happy with a mix of the boost and bloom formulas.

Diana P.
I have an automatic irrigation system at home with a couple of injectors that allow me to water and fertilize at the same time.  I needed a high quality, well balanced water soluble fertilizer that could keep my lawn and flower beds healthy and vigorous.  I tried a combination of Plant Energy "Boost" and "Bloom" products and the results I got this summer were beyond my expectation.  Such a great experience.  I highly recommend them.

Humberto G.
This Bloom fertilizer did just as advertised. I had two jalapeño plants that showed little to no jalapeños all summer. I decided to use this fertilizer as a last resort to help our plants and sure enough within two weeks I saw a huge difference in the amount of fruit our plants were showing. So much progress with this bloom fertilizer! After using it with out jalapeños, I began using this on my tomato plants as well which did not have a single tomato in sight, after two weeks we started seeing so many baby tomatoes starting to grow. This is just what my plants needed!

Dalia N.